Descripción
Lithium batteries Okyami exploit the combination of lithium with Ferrofosfato (LiFePO4) technology. In one I include 2 spacers 36mm
Technical information
Lithium, preloaded (factory-activated - Factory Activated); 12 V 0 Ah 150x65x92 mm; Acid - l; Charging current 2.00 A; CCA 240
main applications
Kawasaki Ninja ZX10-R 04-06; Moto Guzzi 1100 Sport 96-99; Yamaha FZ6 600 04-07; FZS 600 Fazer 98-03; TDM 850 97-05; YZF R1 98-03 1000; FZS 1000 Fazer 01-05; DragStar 1100 99-05; MT-01 1700 05-07; V-Max 1200 85-01; XV 750 Virago 81-98; Benelli Tornado 900 00-02;


Okyami Lithium marks a new battery in the motorcycle-style, environmentally friendly because it does not pollute. These batteries are built with new materials LiFePO4 (Lithium and Iron Phosphate), so do not contain lead, mercury and sulfuric acid. The energy density is three times faster than conventional batteries. The lithium-ion batteries Okyami are extremely light compared to lead-acid batteries. With a very low rate of self-discharge and no risk of finding themselves the sulfated battery after a long break they are ideal for use on motorcycles.

To facilitate the user and facilitate the monitoring of the charge during long operating pauses, the Okyami Lithium batteries are equipped with led indicator to monitor at any time the state of charge. Two lighted LEDs (50% capacity) are sufficient to ensure that the vehicle starts up correctly without the need to charge the battery. Three LEDs lit indicate the status of optimal charge.

All Okyami Lithium batteries are equipped with electronic protections, necessary to avoid the excess charge or discharge: it is in fact essential that the BMS control circuit is able to stabilize the charging current between the battery elements.

The life of LiFePO4 is quantifiable in thousands of charge-discharge cycles.

Okyami Lithium will soon be available, distributed, like all products in Okyami brand, from Bergamaschi.
Main features

Adaptable to most motorcycles and scooters in circulation
Modularity - using the adjustable spacer fits all battery compartments
Reduced weight compared to lead / acid batteries - up to 5 times lighter
High inrush current (CCA)
LED indicator upon to control the state
Very low self-discharge - less than 6% in a year
Low internal resistance.
Over 2000 charge / discharge cycles - 6 times longer than traditional
No risk of acid leakage
No pollution because it does not contain acids and heavy metals such as lead, cadmium or mercury.
Quick charge - up to 90% in 6 minutes providing charging current 10 times greater than its capacity.
Outstanding performance even at high temperatures (60-80 ° C).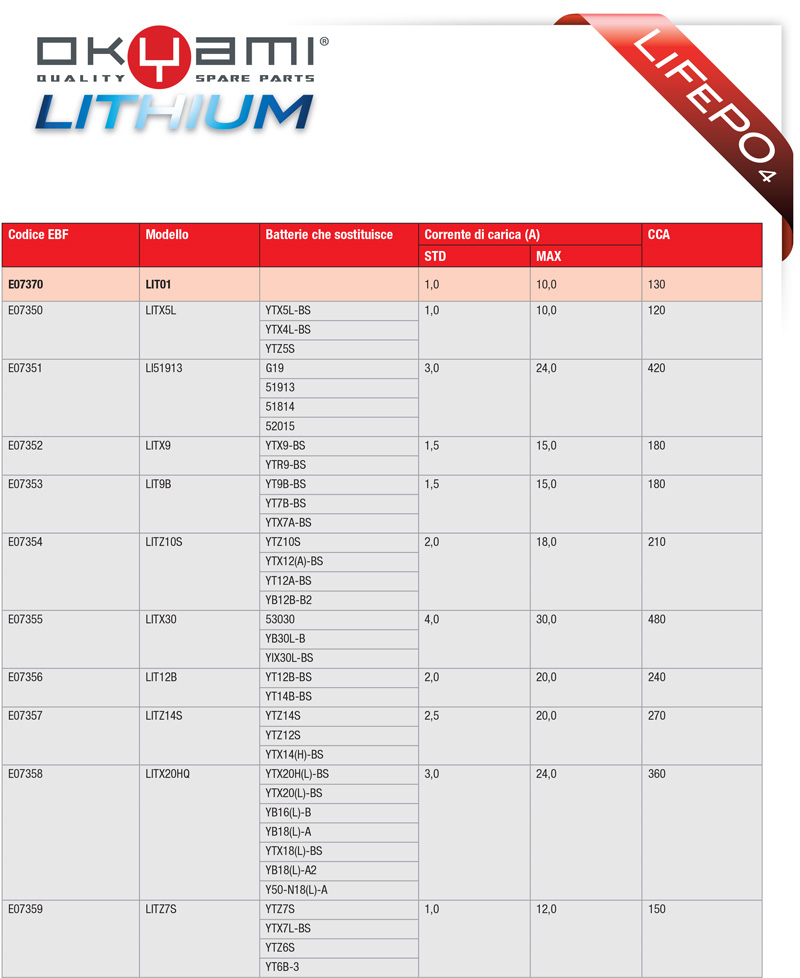 Màs Información
| | |
| --- | --- |
| Codigo Producto | E07356 |
| ID | 14014 |
Valoraciones
Escribe tu propia opinión
Info
Moto
Otros productos que te podrìan interesar